Daily stress and lack of postural hygiene generate muscular tension that is difficult to alleviate. KEYTON technology provides scientifically proven benefits. Continued use relieves tension, promotes muscle recovery and relaxation.
Relieve the stress
Relieves physical and mental tension and reduces stress levels. A massage, based on Shiatsu, which applies pressure that gradually increases, covering all the points of the back and legs.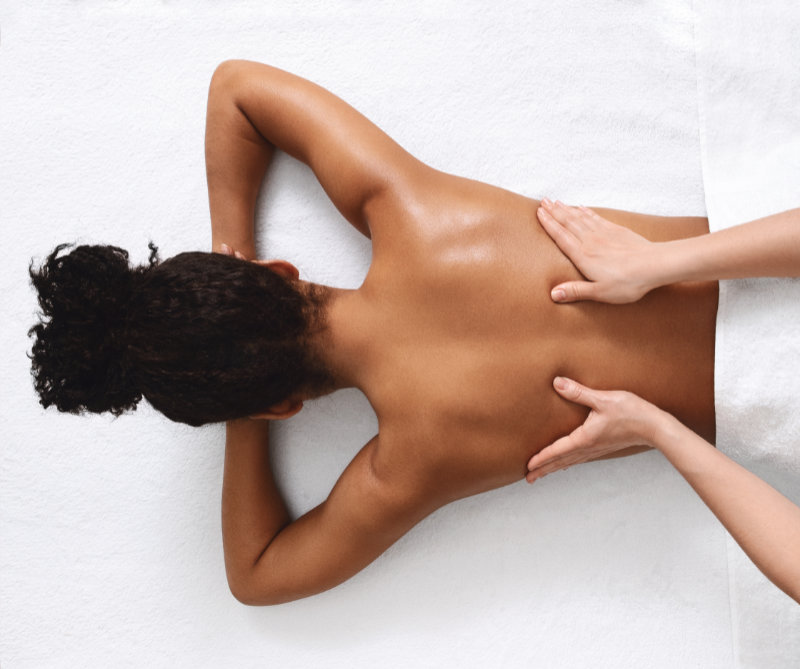 Prevents and relieves low back pain
Relieves the lower back area. Specially designed to achieve deep relaxation of the back, particularly the lower back. Recommended for people who spend many hours sitting down.
Prevents pain in the cervical area
It combines several Shiatsu techniques in the neck and shoulder area, relieving muscle load and managing to eliminate tension in the area.
Promotes muscle recovery
Highly recommended before and after sports practice to reduce muscle tension. Ideal for people accustomed to receiving massages because it uses a high intensity of pressure.
Relieves heavy legs
They provide effective relief from tiredness and heavy legs. Massages based on the Shiatsu technique that reduce stress, tension and muscle pain. They improve blood circulation, promote recovery, stimulate the lymphatic system, prevent injuries and delay the appearance of cellulite.
Renews and revitalizes the skin
Take care of the skin in another way. A massage that activates blood circulation gradually improving the appearance of our skin. It is recommended that, in the first sessions, low intensity be used and gradually increase it.
Promotes restful sleep
Through Shiatsu techniques, this massage stimulates the necessary points to alleviate fatigue and achieve a feeling of relaxation. Its use before night rest helps to fall asleep and make it restful.
Activates circulation and relieves pain
Using Shiatsu techniques this program manages to activate blood circulation relieving pain generated by poor circulation. It is recommended that, in the first sessions, low intensity be used and gradually increase it.
Relieves cervical tension more than 21%
The study carried out by the Biomedical Neuroengineering Research Group (NBIO) of the Miguel Hernández University of Elche concludes that the Keyton massage chair reduces cervical tension more than 21%. And it recommends its use for those people who in their daily life suffer tension and overload in the back muscles, especially in the cervical region.
Reduces muscle stress by 42%
The study carried out by the Kinesiology Research Unit of the Department of Morphological Sciences of the Faculty of Medicine of the University of Valencia concludes that the Keyton massage chair reduces muscle stress by 42%. They recommended to use it before doing sports because it delays the symptoms of fatigue, and afterward, because it facilitates relaxation and muscle recovery.
The touch sensors of the new SensorScan Pro feature analyze up to 128 points on your back to monitor your muscle tension levels. Then, the programs are adapted to each muscle of your back, depending on the state of tension.
Dynamic and customizable programs
Stress
Reduces stress level
Sport
Reduces stress and promotes recovery
Relax
Promotes restful sleep
Restore
Renews and revitalizes the skin
Neck & Shoulders
Relieves muscle pain
Dorsal & Lumbar
Relaxes the lower back
Cellulite
Activate circulation
The Artificial Intelligence integrated into the Keyton H10 analyzes your preferences and is responsible for automatically adjusting the programs to your liking. This ensures that the massages are neither too intense nor too soft, making them more pleasant and effective.
You don't need to hold the buttons down to raise and lower the back and footrest movements of your chair. Now, with a simple and short press, the chair automatically transports you to your preferred position.
The Keyton H10 massage chair is ready for you to enjoy and relax. Place the Comfort Kit when you finish your massage session and use it as a traditional rest chair with maximum comfort.
The leather has a smooth texture, with a uniform appearance. A top quality leather, selected to provide greater protection, resistance and durability. Its silky and soft touch conveys a sensation of comfort in the massages.
Black Charcoal
Black Charcoal
Black Charcoal
Black Charcoal
Black Charcoal
Black Charcoal
Black Charcoal
Black Charcoal
Black Charcoal
Black Charcoal
Black Charcoal
Black Charcoal
Black Charcoal
Black Charcoal
Black Charcoal
Black Charcoal
Black Charcoal
Black Charcoal
Black Charcoal
Black Charcoal
Black Charcoal
Black Charcoal
Black Charcoal
Black Charcoal
Black Charcoal
Black Charcoal
Black Charcoal
Black Charcoal
Black Charcoal
Black Charcoal
Black Charcoal
Black Charcoal
Black Charcoal
Black Charcoal
Black Charcoal
Black Charcoal
Black Charcoal
Black Charcoal
Black Charcoal
Black Charcoal
Black Charcoal
Black Charcoal
Black Charcoal
Black Charcoal
Black Charcoal
Black Charcoal
Black Charcoal
Black Charcoal
Black Charcoal
Black Charcoal
Black Charcoal
Black Charcoal
Black Charcoal
Black Charcoal
Black Charcoal
Black Charcoal
Black Charcoal
Black Charcoal
Black Charcoal
Black Charcoal
Black Charcoal
Black Charcoal
Black Charcoal
Black Charcoal
Black Charcoal
Black Charcoal
Black Charcoal
Black Charcoal
Black Charcoal
Black Charcoal
Black Charcoal
Black Charcoal
Black Charcoal
Black Charcoal
Black Charcoal
Black Charcoal
Black Charcoal
Black Charcoal
Black Charcoal
Black Charcoal
Black Charcoal
Black Charcoal
Black Charcoal
Black Charcoal
Black Charcoal
Black Charcoal
Black Charcoal
Black Charcoal
Black Charcoal
Black Charcoal
Black Charcoal
Black Charcoal
Black Charcoal
Black Charcoal
Black Charcoal
Black Charcoal
Black Charcoal
Black Charcoal
Black Charcoal
Black Charcoal
Black Charcoal
Black Charcoal
Black Charcoal
Black Charcoal