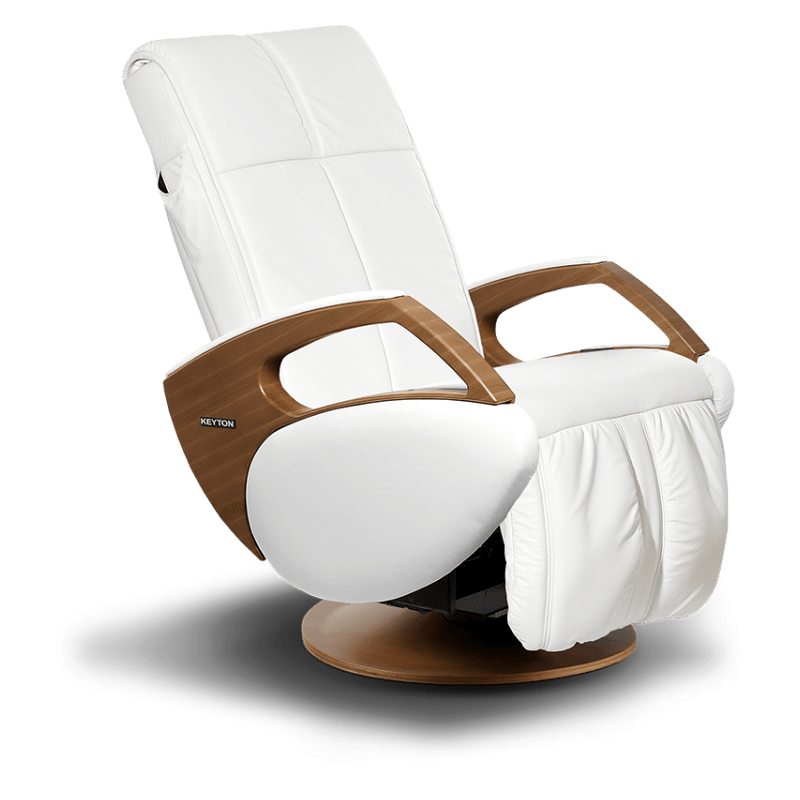 Domo
Perfectly combines the elegance of leather and the warmness of Wood. Its curved and well-defined shape suits the most demanding and sophisticated environments. This modern and elegant massage chair fits all kinds of houses.
Royal
A design that combines the classic lines of the most elegant chairs with more avant-garde forms. The arms of this chair are particulary elegant, with a combination of curved and straight lines, making it a massage chair that defines the surrounding area.
Deco
A design that lasts through time despite trends or fashions. Its own personality in its lines makes this model very architectural. Enjoy a massage sesión and reach extreme relaxation levels by having a rest in this chair.
Vintage
It fuses advanced massage technology with high-quality natural materials, such as 100% natural woods and leathers. It offers perfect moments of massage, rest and relaxation.
Retro
It stands out for its oval leather arms that give it a unique identity. It offers an ideal level of comfort both during massages and for rest and relaxation thanks to its exceptional ergonomics.
| Customizable programs Back + Legs | |
| --- | --- |
| Stress | ☑ |
| Sport | ☑ |
| Relax | ☑ |
| Restore | ☑ |
| Play (Remote control) | ☑ |
| Customizable back programs | |
| --- | --- |
| Neck & Shoulders | ☑ |
| Lumbar & Dorsal | ☑ |
| Play (Remote control) | ☑ |
| Customizable leg programs | |
| --- | --- |
| Cellulite | ☑ |
| Quick functions for high comfort massages | |
| --- | --- |
| Customizable Play Program (Remote Control) | ☑ |
| Quick Access Play Program (Main Control Panel) | ☑ |
| TEST function - SensorScan Pro (Up to 128 points) | ☑ |
| Intelligent adaptation | ☑ |
| Simultaneous Kneading & Tapping Adjustment | ☑ |
| Independent Kneading & Tapping Adjustment | ☑ |
| Adjustment Kneading & Tapping balanced | ☑ |
| Independent and simultaneous automatic recline (Fast Touch) | ☑ |
| back massages | |
| --- | --- |
| Medium Kneading | ☑ |
| Kneading Sport | ☑ |
| Soft Kneading | ☑ |
| Sensitive Kneading | ☑ |
| Medium Tapping | ☑ |
| Sport Tapping | ☑ |
| Soft Tapping | ☑ |
| Sensitive Tapping | ☑ |
| Kneading + Tapping combi massages | ☑ |
| Combination massages Kneading + Tapping Balanced | ☑ |
| Rollin massage | ☑ |
| Leg massage | |
| --- | --- |
| Bidirectional 3D multi-leg massage | ☑ |
| Floating leg massage | 3 levels |
| Floating thigh massage | 3 levels |
| Settings | |
| --- | --- |
| Number of heights | 5 |
| Number of widths | 3 |
| Massage positioner on any point of the back | ☑ |
| Partial massage positioner on any point of the back | ☑ |
| Special features | |
| --- | --- |
| Independent recline | ☑ |
| Footrest safety system | ☑ |
| SensorScan personalized massage | 128 points |
| Data storage system | 128 points |
| Ergonomic massage system | ☑ |
| Movable upper head | ☑ |
| Movement angle | Min 75º Max 140º |
| 24 Volt electrical security system (Class II) | ☑ |
| Wireless main control panel | ☑ |
| Wireless remote control | ☑ |